Room Setup Essentials
Set up and customise the room categories on your Avvio Booking Engine.
Add a Room
To add a new room to your hotel/property on Avvio, follow the steps below:
Go into the Booking Engine Service.
Under Room Setup click 'List Rooms'.
Under the 'General' tab you fill in the 'Room Code' information.
This is the code that will be shown on Reports. 'Short Name, Long Name'.
There are space restrictions in certain views on our system, this is where the Short Room Name is used. In views where more space available the Long Room Name is used.
Find out more about the differences between the Short and Long name here.
Room Description
The room description will display when the guest clicks on the room image and selects Room Information.
It will also appear on the Guest page of a booking.
Best practice is to include all relevant information about the room in the description.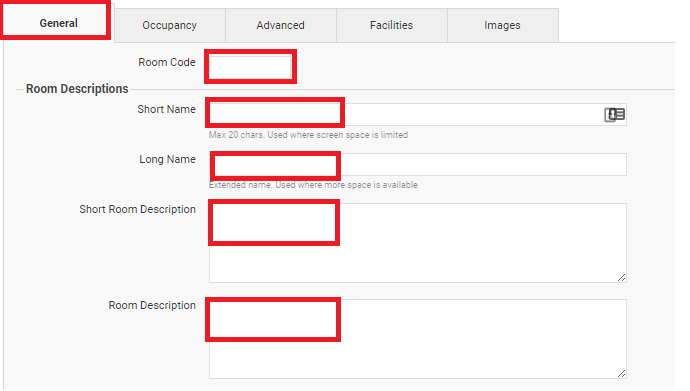 Occupancy Tab
Fill in the Min & Max Adults and Max Occupancy.
Adults can't be 0.
An occupant represents anyone requiring a full-size bed.
It is important to get these settings right from the start. Later changes might result into having to reload rates.
Note: If occupancy settings change after initial setup of the room type, the rates for this room will be disabled until each individual rate period is reviewed. This assures prices are correct and consistent.
Non-linear Prices
Optionally indicate the number of adults to base the price by default for this room.
Please indicate which child price bands apply for this room (if applicable – if no children permitted in room, leave unticked).
Note: If child pricing is not enabled on your property and you wish to have it enabled email support@avvio.com requesting the change.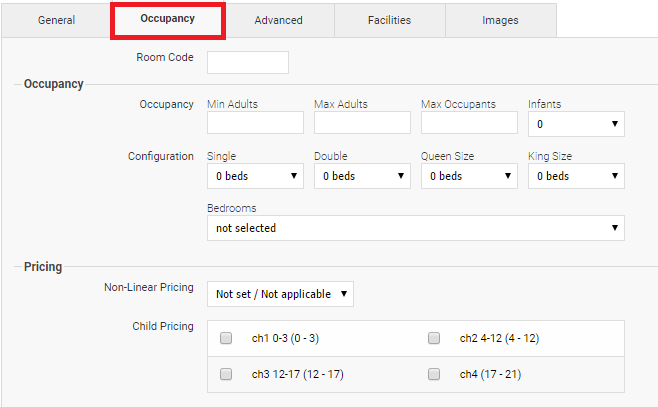 Advanced Tab
Here you can specify if the room is Active or Removed.
A new room will always show as 'Active' by default.
Order Index is the order the room will show on the booking engine.
Optionally enter a YouTube video ID if you have a room video hosted there.
You may specify a list of suitable room upgrades for this room type.
Note: Room Upgrades can be purchased when a guest wishes to modify their booking online.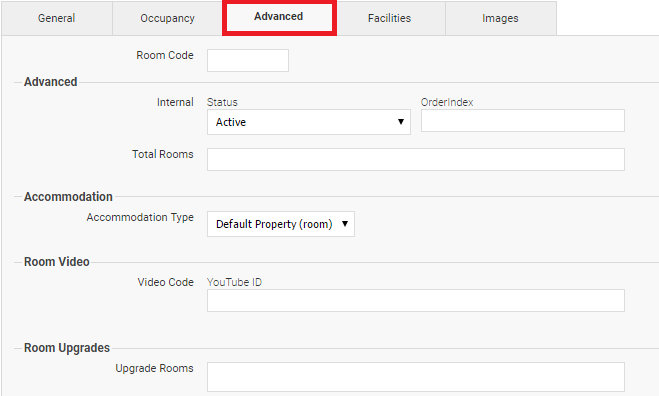 Facilities Tab
Here you can select all the facilities that are available in the room.
Note: These appear on the booking engine when the customer clicks on the room type and selects 'Room Information'.
Images Tab
Here you can add up to 4 images to display per room.
If you want to use an image of the room it will need to be uploaded to the 'MEDIACENTER' before you can add them here.
You can also use the generic images loaded on your property.
Note: This will be the image that displays on the Booking Engine when a customer is making a booking.
Save Changes.
Add Inventory to a Room
After creating a room you will need to add Inventory to the room, add a rate to the room and add pricing.
To add Inventory for a room, follow the steps below:
Note: If your PMS or Channel Manager has integrated inventory syncing with the Avvio booking engine, send inventory messages from that system for that room for future dates. Then continue down to the steps below:
Go into the Booking Engine Service.
Under 'Daily Inventory' select 'Inventory Mass Setup'.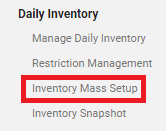 Select the date range you want the inventory loaded for. You can select a specific date or you can set it to the maximum date range.
Note: If you are not using Rate Band Pricing, beside the room you want, ONLY, add inventory and select a default rate band.
Note: If you are using Rate Band pricing you can change the rate band on a per day basis across the top.
An 'Allocation' also needs to be added to the room.
This is the amount of rooms that will be by default available each day.
You can enter this as the same amount each day by entering the number into the box beside 'Allocation' and this will populate across all days or you can enter different amounts under each day.

When you are happy with the inventory Save Changes.
You will be prompted to tick the confirmation box and submit the form again.

This is an added step for when you are updating inventory, allowing you to review the amount of changes you are about to make.
IMPORTANT NOTE: Any changes made are irreversible and will override any existing inventory settings for the room(s) selected.
Tick the box, Save Changes and the inventory will be loaded.
Add a Room Image
Note: If you are adding an image that is not already on Avvio MEDIACENTER you will need to follow the steps here to upload it.
To add an image that is currently on Avvio follow the below steps:
Go into the Booking Engine.
Under Room Setup click 'List Rooms'.
On the Room that you want to add an image to click [edit].
In the 'Images' tab when you have decided on an image you will need to tick the image and then select 'Add Selected'. You can add up to 4 images per room.
When you are happy with the images selected, Save Changes.
Set Up Room Upgrades
To set up room upgrades, follow the steps below:
Go into the Booking Engine Service.
Under 'Room Setup' select 'List Rooms' and click [edit].
Under the 'Advanced Tab' go to 'Room Upgrades'.
Select the rooms suitable as upgrades to your chosen room type.
Save Changes.
Note: The system will offer these room types as upgrades and price dynamically from inventory on the night chosen by guests to upgrade.
Note: In order for room upgrades to appear contact your E-Commerce Manager.
Reorder Rooms
To reorder how your rooms appear in the booking process, follow the steps bellow:
Go into the Booking Engine Service.
Under Room Setup click 'List Rooms'.

Under 'List Rooms' click 'Reorder Rooms'. Alternatively click 'reorder rooms' underneath the list of rooms.
Click, drag and drop the rooms in the list to reorder.
Note: The order is left to right then top to bottom.
The order before rooms are moved around:

Note: When the rooms are in this order, they will show on the Booking Engine as in image below.
The new order of how the rooms will show:
Save Changes.
Note: When the changes are saved the Rooms will display on the Booking Engine in the new order, as seen below.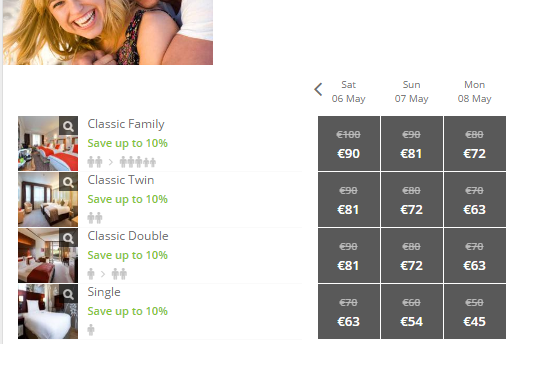 Child and Infant Pricing
The main difference between the Child Pricing and Infant Pricing on Avvio, is that Infant Occupancy is not considered part of the Max Occupancy calculation in a room. This is due to assumption that infants will take up a cot rather than bed space in a room.
Infant Pricing
To have Infant Children taken into account as part of the Total Occupancy of a room, you need to create a Child Band for that age group, in the Child Pricing section.
With Infant Pricing, you have to set up one default price across all rates. This will be applied to any room you want to allow infants.
To set an infant price you need to email support@avvio.com requesting the price to be added.
Setting the amount of infants allowed on any room will be exclusive of the room Occupancy.
Example Below: A Family Room with a Max Occupancy of 5. Min Adults 2, Max Adults 3, Infants 2.
Using this example, a guest could book 3 Adults, 2 Children AND 2 infants into this particular room. This is because Infants are not considered as part of Max Occupancy.
Note: Generally, cots or similar are provided for infants and as a result do not count towards the Room Occupancy.
Child Pricing
You can set different child bands with different prices.
You can have Child Bands for different age groups (0-2, 3-12, etc.)
You can use Child Bands to capture infant occupation as an alternative to setting it up via the Infant Pricing section.
Child Bands will be counted towards the Room Occupancy.
Example Below: Does not allow infants. The Room will only ever allow 5 occupants.

Note: Unless you are setting a default Infant price, it is generally advised to use Child Pricing and Child Bands.
Enable Child Pricing
To enable Child Pricing on your hotel/property please email support@avvio.com stating that you would like Child Pricing enabled and the age brackets you would like to use.
Examples of age brackets would be:
1-4 years
5-12 years
13-16 years
You can choose one, all or any combination of the above age brackets.
You can change the ages in any of the brackets.
Important Note: If you are managing your pricing through an external interface, there may be restrictions on the amount of age brackets available. Support will advise you of this before enabling.
When Support has enabled Child Pricing for your hotel/property you can enable them on whichever rooms you wish.
Change Child Age Brackets
To change Child Age Brackets you are currently using please email support@avvio.com with your current age brackets and what you would like to change them to:
An example of how to present the changes in the email:
Current: 1-4 years –> Change to 1-3 years
Current: 5-12 years –> Change to 4-14 years
New Age Bracket –> 15-18 years
Important Note: When changes are complete, to ensure you have the correct pricing in for the new age brackets, you need to review all rates with Child Pricing associated. You will need to re-save the prices section on each rate.
Important Note: If your pricing is managed by an external interface, you also need to review the rates and if required, send the information and pricing for the new age brackets.
Add a Rate to a Room
To add a Room to a Rate, follow the steps below:
Go into the Booking Engine Service.
Under 'Rate Management' click 'Browse Rates'.

Click [edit] on the Rate you want to add a Room to.
In the 'Rooms' tab select the Room (4.1) you want to add and click the 'add rooms' (4.1) The Room will appear on the right (4.2).
4.1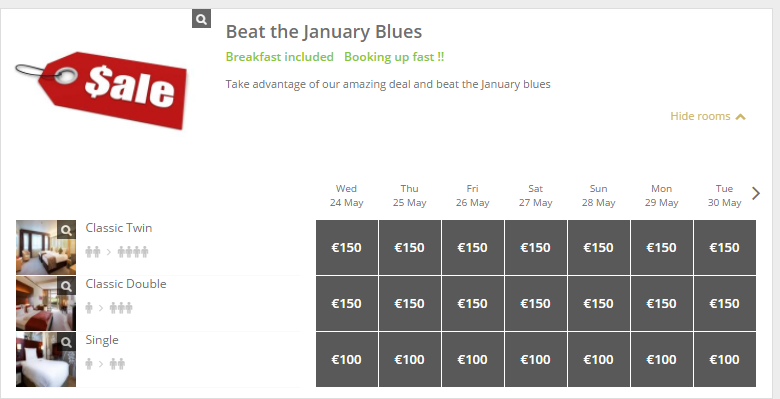 4.2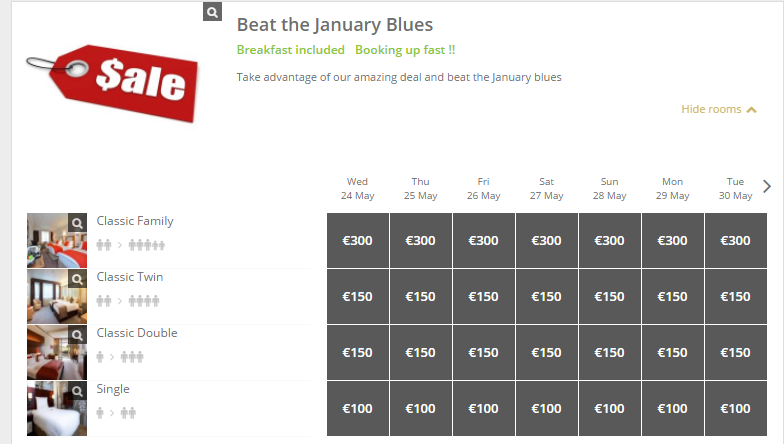 Note: If the Rate is a Standalone rate, you can override the default Room occupancy by entering values in the Occupancy spaces shown on this tab.
If the rate is not a Standalone rate, leave the spaces blank.
Room Occupancy override is not allowed on Linked Rates.
Save Changes.
When you have added the Room, make sure pricing for that Room is entered by clicking on the [prices] link for that rate.

When all the above steps have been completed the new Room will show on the rate.
Rate Before Room Added: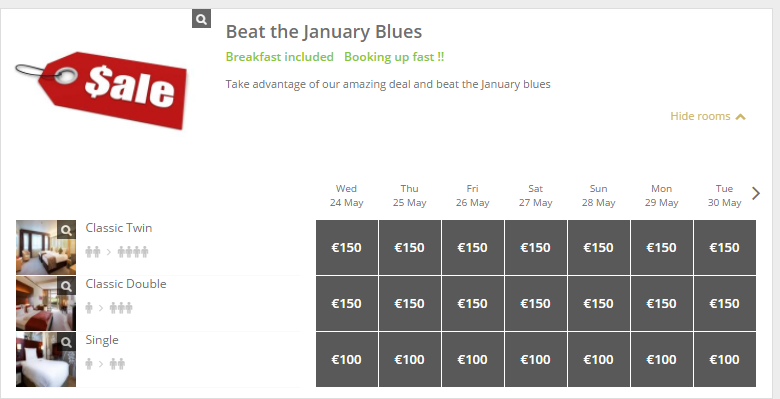 Rate After Room Added: